Select the Query Manager command in the Calendar Manager button dropdown menu on the MindManager Ribbon > Advanced tab or click the Task Panes button in the lower right corner of the MindManager taskbar and click Calendar Manager.
Query Manager task pane opens.
It consists of two parts.
In the upper part you can: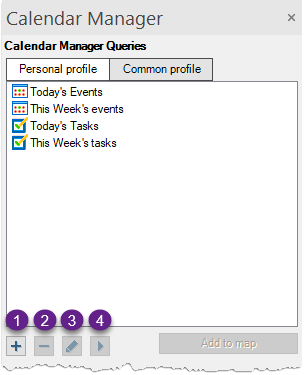 create a new query;

delete the selected query;

edit a query;

run the query without adding it to the map.
In this case, the Calendar Manager will ask you if you want to run it. If you decide not to run it, it will execute when you:
- click the query icon on the query topic, and then click Refresh;
- right click on the map background and select Refresh all topics;
- select "Synchronize ..." in the Calendar Manager button drop-down menu on the Ribbon;
- have enabled Autorefresh and the next Refresh takes place.
You can use the mouse to move and reorder the queries in the list.
When you click the Run query button, the results of the Query appear in the bottom part of the window: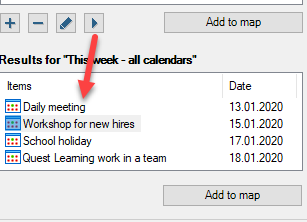 You can view these results, add them to your map and then modify them there. Double-click an item to add it to the map. To add several results at once, select them in the list and click Add to map button at the bottom of the window.
You can sort Query results by name or date by clicking on the corresponding column.
The Personal Profile and Common Profile buttons show Queries from the Personal or Common Profile.
---
Copyright 2013-2022 PalmaRoss