After running a task Query, your map may look like this: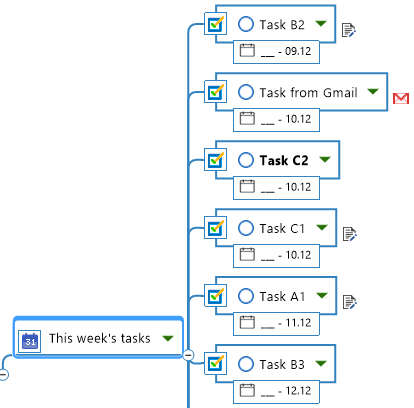 In this Query, the user selected the sort by the Date , and it collected tasks from all lists and sorted them by the due date.
Query results may also look like this: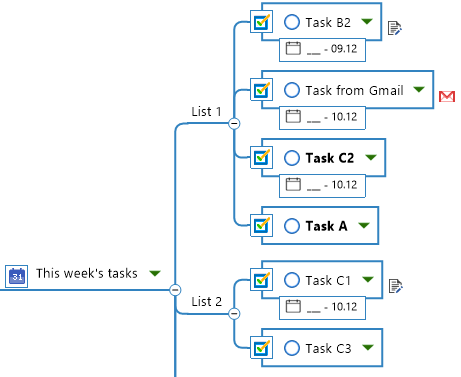 In this Query, the user selected to sort by Task lists, and Calendar Manager collected tasks and sorted them by lists and due dates.
Finally, the query results may look like this when the user selected My order sort option: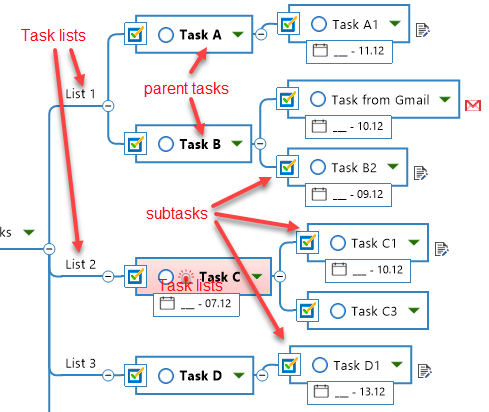 Here the Google tasks structure is precisely the same as your Google Tasks. The structure takes precedence over due dates.
Some topics have Topic Notes that contain the Google task description (Details).
Some tasks may have links. For example, you sent an email from your Gmail client to Google tasks. Clicking on the link will open this email in your Gmail client.
Each event topic has several commands in the task icon context menu: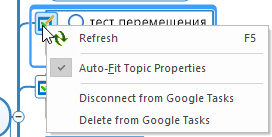 Disconnect from Google Tasks - converts the topic to a standard topic. It will no longer synchronize its tasks with Google Tasks.

Delete from Google Tasks - deletes the task from Google Tasks. Please note that if you delete the task topic (using the Delete button or via the topic context menu), Calendar Manager will not delete the task from your Google Tasks!
---
Copyright 2013-2022 PalmaRoss