To create a template that you will use to collect data, you need:
1. Create a new map
Use any MindManager method to create a map.
2. Set the collection criteria for this template
See the Data Collection Criteria section.
Then...
3. Save this map as Data Collection template.
Call the Manage Collection Templates window (Collection templates >> Manage Collection Templates).
In this window, click the
button (Create a new template).
The dialog appears: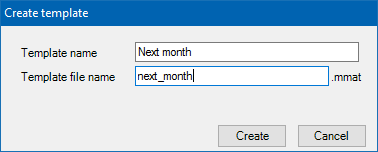 You type the Template name (which will appear in the Manage Data Collection Templates dialog) and the Template file name for storing the template. When finished, click Create.
You will return to the Manage Collection Templates window, where you can add a template description.
---
Copyright 2013-2023. PalmaRoss